Riding Experience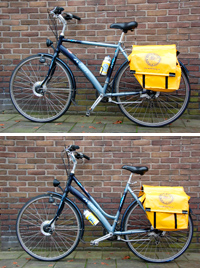 Each day - two groups - three choices
We offer three options each day - the choice is yours. The two cycling groups are led by Dutch guides, and the third option is to ride the barge. The short/slow group cycles about 20 - 30 miles each day and the long/faster group cycles 30 - 45 miles. The third daily option is to stay on board to view the scenery, canals, and locks from the barge. We inform you daily about what to expect on your ride so you can make the choice that suits you the best.
The 21-speed hybrid bikes, equipped with panniers for storing gear and gel seats, are our mode of transportation to view the country's landscape, history, customs and traditions. The biking pace is really called a "social ride" adjusted to see the sights, take pictures, and enjoy the coffee and bakery stops. For those who prefer a faster pace, we offer the long/faster group that covers more daily mileage. An afternoon stop for a coffee or beer is a wonderful way to finish our biking day.
For the short/slow group, the daily rides, distances and speed are designed for bikers that are able to bike consistently and cover at least 10 miles on road conditions in one hour. To enjoy the full program one must be capable of covering 30 miles maximum in a day. Consistent biking skills include the ability of getting easily on and off your bike and to be able to ride steering with one hand while signaling with the other. Riding in a group on the road requires the skill to be able to respond quickly to unexpected situations.
Typical Daily Schedule
8:00 am Breakfast and preparing packed lunch
9:00 am Groups begin touring
5:00 pm Latest return to the barge
6:30 pm Dinner and explanation of the following day
Evening village walk in most locations
Schedule and daily distances may vary according to weather conditions or changes in the itinerary.