About Us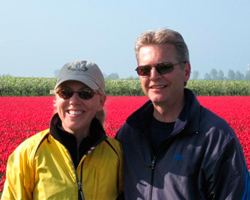 The Bike & Barge Holland Tour adventure began in 1992. It was created because of a combined love of travel and biking, and a conviction that exploring a country on a bicycle is an experience like no other. We believe biking offers you a chance to see a country's landscape, customs and traditions from a very unique viewpoint.
Our people and programs make the difference. Winfried Veenker, our Dutch coordinator, provides expertise in itineraries and guiding. We pride ourselves on our Captain and Crew, a special group of people who will guide, serve and entertain you during your entire trip. We do everything necessary to ensure your vacation experience is the best one possible.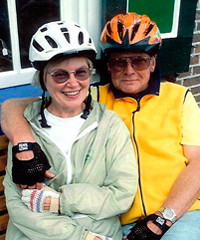 Bike & Barge Holland Tours is a family business that has been nurtured with our personal attention. The company was founded by Bill and Iris Snow who have since retired. Lowry and Becky Snow operate it today and continue with the traditions that have made the company successful.
Testimonials
"We've been repeat customers for several years, some years two trips back to back, and love it. For the past 10 years we have traveled with several companies, both domestic and international. Bike Barge is the best value that we've found. The guides are wonderful, the daily format is great, and the food can't be beat."
- Marty and Sylvia F., Clearwater, FL (eleven tours)

"What a wonderful vacation! This was our first bike and barge, and it was truly enjoyable. Our guides, Winfried and Willemina, were so knowledgeable about the country, both present day and past. I loved the after-dinner walks through each of the towns we visited. The time we got to spend on our own in Keukenhof was so very special. A sight not to be missed if you visit Holland. The barge was comfortable, and the food top-notch. We were so luck to have Daniel as our head chef. He and his co-chef never disappointed with their gourmet food…and plenty of it. We will highly recommend your company to all our Denver friends!"
- Sherry R. and David H., Denver, CO (one tour)

"I loved my Bike & Barge tours. The tour guides were fun, knowledgeable and did more than just lead rides. We learned a great deal about the history and architecture of the region. The food was beyond fabulous and the accommodations very comfortable. I met interesting people and thoroughly enjoyed the whole experience! To see another part of the world on a bike, this is the BEST way to go!!"
- Deedie C., St Louis, MO (two tours)

"Cal and I just returned from the tulip tour, and it was fun, fun, fun. You guys do a great job of organizing, and the guides, Winfried, and Willemina were chipper, informative, organized, and witty. Daniel is a gourmet chef, and delighted us every night with a tasty meal. His co-chef made a good part of the cooking, serving, and barge team and was so accommodating. Then there was Robin and Carel who took care of us and steered the beautiful old girl, Angeline. You have chosen your team well, and we applaud you. We hope to do another trip soon. It would be our third."
-Cheryl & Cal W., Lafayette, CO (two tours)

"We were invited by some good friends to join them on our first Bike and Barge Tour in 2007. We had a splendid time and became inspired to invite our local biking community to join us on a Bike and Barge adventure. We had a great response and darned near filled the barge for the North - South tour in 2009. The tour was filled with wonderful surprises and we can't say enough good superlatives about the guides."
- Jim & Reed D., St Louis, MO (three tours)
"What's most outstanding about Bike & Barge Holland Tours? The tour guides! There is one for each of the two daily bike groups and they:
• Are multi-lingual.
• Are knowledgeable about the history, culture, economy, architecture, etc.
• Have a sense of humor.
• Go out of their way to be helpful to all the guests.
• Know the routes, sights (and pastry shops!) intimately."
- Sherry and David C., Arlington, VA (eight tours)
"We have made two trips with Bike and Barge and they just keep getting better and better. Biking in the Netherlands is as easy as it gets and the countryside is absolutely incredible. Green grass, grazing sheep and cows and bike paths that keep you away from the cars. It is all so perfect. Life on the barge is just like being at home. Good food, congenial staff, a comfortable bed and your new friends await you at the end of each day and make for a perfect holiday and biking experience. We are looking forward to another trip next year."
- Kerry G. & Susan M., Pepeekeo, HI (three tours)
"How can one explain the dichotomy of being one of the most relaxing vacations we have ever taken while also including the better part of a day of cycling and getting exercise? The explanation comes from the obvious careful planning of the Bike and Barge crew, their willingness to adapt when necessary, and the dedication that they have to their profession. This endorsement is from a couple that has joined Bike & Barge Holland for five separate adventures in the Netherlands and Belgium. We are certain we will go again."
- Stu & Janie G., San Luis Obispo, CA (five tours)
"We have traveled quite a lot, but Bike & Barge Holland Tours provides what may be the best value in European travel of anything we've ever done. The people are amazing--the guides, captain, chef, and fellow travelers. The ability to be active, seeing a variety of towns, people, landscapes, and cultural/historical sights, makes for a varied and memorable experience. Since food and lodging are included on the barge, you only have to unpack once--the barge moves while you are riding and it's just like coming "home" at the end of the ride. Of course the little places for coffee and apple cake in the morning, or ice cream or a beer in the afternoon, only add to the adventure. It's a much more intimate form of travel than a typical tour or cruise, and much more rewarding. We liked it so much we came back with our friends, because we knew they would love it too."
- Sara & Tom L., Anacortes, WA (four tours)
"I'd like to report that I had the most FABULOUS trip with Bike & Barge!!! It was so much more than I ever expected! It was perfect, the guides knowledgeable, humorous, charming, friendly and patient. The crew was delightful. I have been back a week and every day I think about the trip and wish the new schedule was out so I could sign up and start thinking about next year.
"I know there is an incredible amount of behind-the-scenes work that goes into this type of tour.....things that we can't even imagine.....and yet everything went so smoothly and absolutely perfectly. The route, the villages, the museums, the food, the spirit of the staff......we were so lucky and I thank you for working your magic on this wonderful vacation. The nightly preview of the next day's ride and the city walks made it even more special."
- Marilea S., San Diego, CA (nine tours)
"Just wanted to let you know we had an awesome time on our tour. It surpassed our expectations. Peter and Helen were wonderful hosts, very friendly and hospitable with a great sense of humor. Can't say enough about our guides. They were very knowledgeable, humorous and encouraging. They added greatly to the enjoyment of the trip. We would definitely like to do another trip with Bike & Barge in the future."
- Loralee & Rick J., New Westminister, BC, Canada (one tour)

"Sending a note to let you know how pleased we were with our Bike & Barge Tour in Holland. It was a great experience. The guides were great. They made the bike rides and city walks very educational and enjoyable. It was hard to say goodbye to both of them. The barge was comfortable and a great place to return to daily. The cook and his assistant made the food and eating experiences something to remember. Also really enjoyed the captain, Peter. We have been sharing our experience since we are back home as "perfect." We thought it was important to let you know what a nice trip you offer. Thanks and be confident that the right people work for you and the experience was the best."
- Don & Janet R., Puyallup, WA (one tour)

"I loved the North South Holland Tour and was so impressed with the beautiful country, the people, the flowers, the beauty of the country roads and villages, the cleanliness, everything. The guides and crew were the best. Peter and Helen were great hosts. I think a biking tour is the way to really see a country and probably will not be satisfied with the usual tourist type tour again. The bicycles were a pleasure to ride. Looking forward to another tour with your company."
- Shirley B., Guelph, Ontario, Canada (one tour)